Changing Perspectives in Australian Democracy
The National History Challenge invites students to be historians—researching and interpreting the past. The Museum of Australian Democracy is pleased to sponsor a special category in this year's challenge 'Changing Perspectives in Australian Democracy.'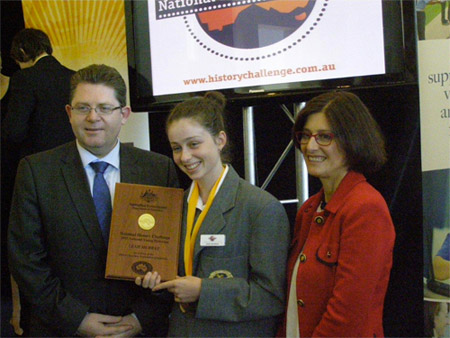 2013 National History Challenge award winner Leah Murray with Senator the Hon. Scott Ryan, Parliamentary Secretary to the Minister for Education, and Daryl Karp, Director of the Museum of Australian Democracy at Old Parliament House.
A democracy is a place where everyone can have a say. The Museum of Australian Democracy traces the development of democracy through the stories of ordinary people using their voice to achieve extraordinary things.
The history of Australia's democracy encompasses our laws and institutions, as well as the way we live as a society.
Students from years 5-12 are invited to research and create an entry.
The Museum of Australian Democracy also sponsored a category in the 2013 National History Challenge on the topic 'Australian Democracy: Legends, Facts and History'.